The Business Challenge
In 2019, the California Natural Resources Agency (CNRA) was backlogged with millions of records needing to be digitally converted before moving several departments to a new building in 2021.
CNRA was left with only two years to identify what records needed to be retained and establish a plan to digitally convert millions of records—some with complex indexing requirements and metadata structures— that spanned multiple departments, managed by hundreds of staff, and spread across multiple locations in Sacramento.
---
The SyTech Solution
​CNRA partnered with SyTech to streamline their digital transition. This project began with a detailed analysis of business processes. It established a hierarchy for management and reporting purposes, including identifying multiple Project Managers, Records Managers, and Subject Matter Experts, spread across each department. Due to the complexity of the project, SyTech's project management and technical teams needed to work with every layer of CNRA staff.
Utilizing this information and structure, SyTech developed a comprehensive project plan. The SyTech team developed a digital Scan Assessment Form, specific to CNRA, that identified and captured key elements of processing each unique document type throughout the Agency. In addition, this electronic form was the basis for creating a unique electronic document library for each document type. SyTech's technology team designed and deployed an Enterprise Records Management System (ERMS) utilizing SharePoint Online as the underlying platform. This process was duplicated for each Department and thousands of SharePoint libraries were generated, managed, and optimized.
SyTech developed a routine scheduled of daily box pick-ups from multiple locations in Sacramento. Boxes were labeled with a unique QR code specific to each document type, palletized, and transported to SyTech's secure processing facility. Records were then carefully prepared, scanned, indexed, and uploaded to the ERMS system on a daily basis.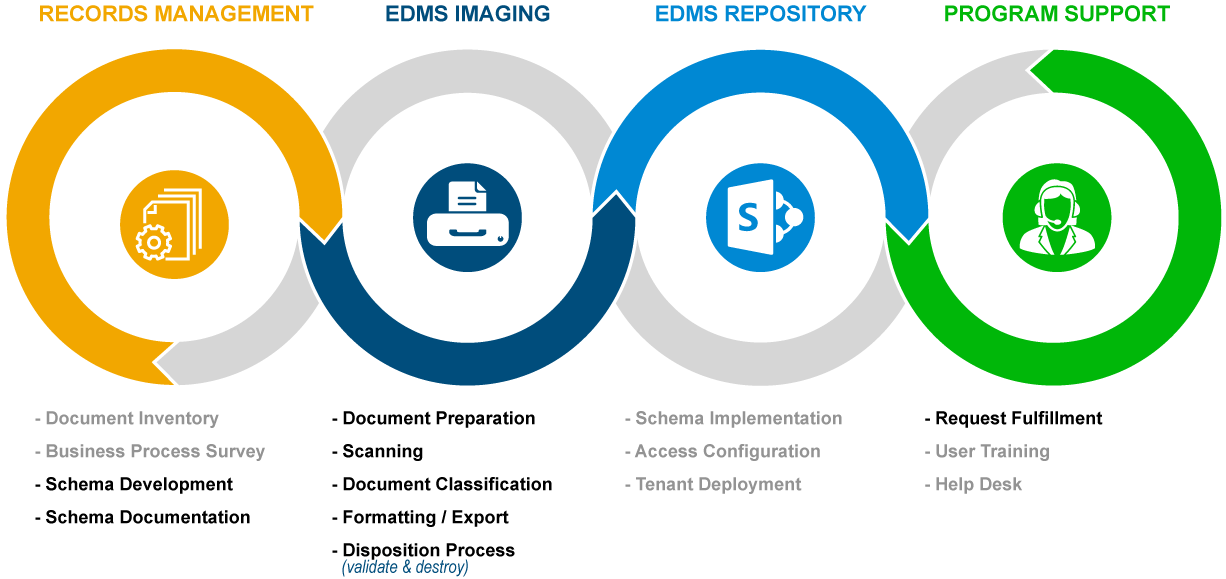 In addition to scanning paper records, SyTech developed a Digital-to-Digital application as a tool for departments to migrate records already in digital format to SharePoint libraries with uniform classifications/metadata. This custom low-code tool allowed CNRA to consolidate data from multiple sources into structured SharePoint libraries.
This rigorous project required detailed management activities to deploy the plan and build out the Microsoft Stack including PowerApps, Power Automate, Azure Cognitive Services as well as DocuSign for document destruction authorization. This iterative process was honed and improved as more departments were onboarded after the original project deployment.
Leading the Industry
CNRA has continued their partnership with SyTech and is still reaping many benefits. SyTech continues to provide conversion services for 13 different Departments within CNRA. SyTech has processed 50 million records, over 15,000 boxes, and nearly 2,000 different document types for this project to date.
This is likely the single largest deployment of SharePoint Online and the Microsoft Stack for a California public agency. CNRA is on the leading edge of State agencies in the transition to paperless processes.